9, May 2013
At Mobiquity's welcoming party yesterday, the mobile solutions company announced to a large crowd at Ayers Plaza that they had found its first employees, including one manager, and have found office space to operate in. The company will be located at 237A at Innovation Square, a recently renovated commercial property in Gainesville owned by Trimark Properties.
View 237A at Innovation Square's website or other office space for rent in Gainesville.
The following is an exerpt from Anthony Clark's article in the Gainesville Sun on Mobiquity's intent to create jobs in Gainesville:
"What we want to do is bring as many of those back to the U.S. as we can and as many to Gainesville as we can," (Mobiquity founder and CEO) Seibel told a crowd gathered in the courtyard of Ayers Plaza to welcome the company to Gainesville.
Boston-based Mobiquity announced last month that it was expanding to Gainesville, creating 260 jobs over three years paying an average salary of $49,000.
While competitors are looking to places like China or India for low-cost IT work, he said it is difficult to collaborate with clients when you are 8,000 miles away across 12 time zones and speak a different language.
"Instead, we believe if we can find a city in the U.S. that has access to world-class engineering talent, and if that city is a city where the students that graduated wanted to live afterwards and work there, if that city had a startup culture, and if that city carried a cost structure that was less than a Boston or a New York or a San Francisco, and if that city could put all that together and welcome us the way you have to help us get started here then we could drive more value to our clients that way and we could bring those jobs back to the U.S. and that's why we're here in Gainesville."
Mobiquity will join neighboring CurtCo Robb Media, who moved into an adjacent unit at the 237A at Innovation Square commercial property. The location, one block from the Florida Innovation Hub, is unparalleled by other commercial rentals in Gainesville for companies that hope to ride the wave of momentum accumulating at Innovation Square.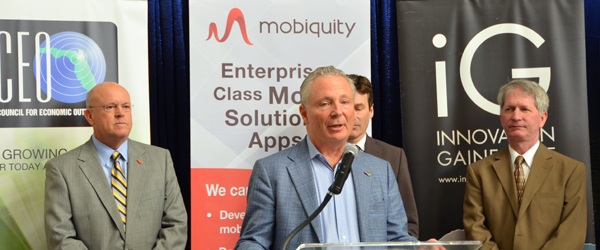 Photo Credit: The Gainesville Area Chamber of Commerce
TRIMARK PROPERTIES | STAFF | 9-May-2013